Credit Cards tailored to fit your lifestyle.
Credit cards for all of your day-to-day needs.
Choosing a credit card that works for you and your unique lifestyle is a big decision. We're proud to offer a wide range of cards with different interest rates, flexible rewards and travel perks so you can get what you really want out of your credit card.
Collabria Mastercard Promos
Receive up to 15,000 Points
A warm welcome awaits you this year!
This is an excellent opportunity to receive up to 15,000 Welcome Points (up to $150 in value) when you sign up for a Crossroads Collabria Mastercard. What are you waiting for?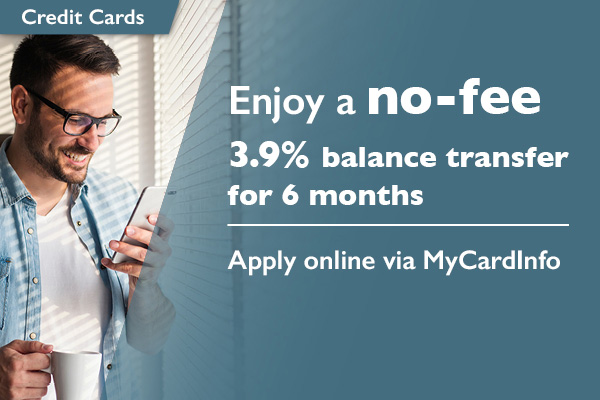 3.9% Balance Transfers
Want to feel good about reducing your credit card balance?
You can pay down your balance quicker when you transfer your balance to a 3.9% interest rate for six months with no-fee!

Cash Back Mastercard®
It doesn't matter if you're buying groceries or gas, dining out with friends, getting a haircut or seeing the latest movie in a theatre. It all adds up to valuable cash back that can be redeemed as an account credit.

Centra Gold Mastercard®
The Centra Gold Mastercard helps you collect valuable reward points on the purchases you make on a regular basis. But you won't break the budget with high fees or high interest rates.

Travel Rewards Gold Mastercard®
This card is perfect for on-the-go lifestyles. You can travel with peace of mind, plus you'll earn rewards.

World Mastercard®
The World Mastercard is your key to earning the elite-level privileges you deserve. You'll be rewarded with unique benefits and exceptional service wherever you go.

Classic Mastercard®
For simple use and savings, the Classic Mastercard is the choice for you. It keeps everything easy; the only decision you'll have to make is what to buy.

US Dollar Mastercard®
The US Dollar Mastercard is your key to earning the privileges you deserve - whenever you go to the United States or shop online with a US company.
Looking for a Business Credit Card?
Discover an option that works for you and your business.
Discover many way to pay with your Collabria Mastercard.
Sign up to make convenient, smart and safer contactless payments.
Already a Crossroads Collabria Mastercard cardholder?
Easily manage your credit card online.