Education is an important part of the success of our communities.  We are proud to support the youth in Crossroads Country by helping them to reach their goals through our scholarships.
High School Graduate Scholarship
Crossroads Credit Union issues one $500 High School Graduate Scholarship in each of the schools in our trading area which includes Canora, Preeceville, Sturgis, Invermay and Wadena. The candidates are chosen based on their demonstration of community involvement, extra-curricular activities, integrity, leadership, volunteer work and academic achievement. The candidates will also require a minimum of 80% average in core subjects and electives and be attending a post-secondary institution within the same calendar year. The final selection is jointly determined by the high schools scholarship committee and Crossroads Credit Union's selection committee.
Information is sent out directly to the high schools in April.
​Post-Secondary Scholarship
Crossroads Credit Union offers 3 - $1,000 Post-Secondary Scholarships to full-time students who are members of Crossroads Credit Union and have completed at least one year of studies at an approved post-secondary institution and are continuing their studies.  We start accepting applications in April up until the beginning of August each year. Our scholarship selection committee adjudicates the applicants and selects the recipients.
Congratulations to our 2023 Post-Secondary Scholarship Recipients!
Ally Sleeva
Central District
"Crossroads has always allowed me to feel confident and secure in the financial decisions I have made and has also allowed me the confidence to know I can count on them in the coming years when I will require a student loan, or a loan for a car or future house investment."
Kiera Balyski
Northern District
"Crossroads has always made and continues to make a significant impact on my life and the communities. Crossroads is always there to support your financial needs, build friendly relationships with their members, donate back to the communities and volunteer within."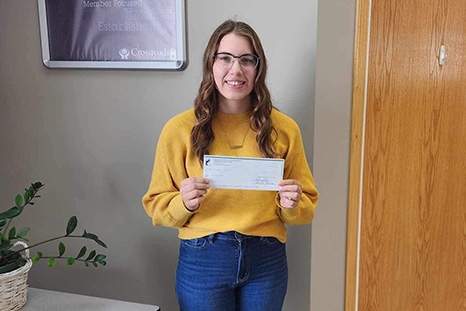 Adrian Byman
Western District
"The Credit Union has allowed me to stay in touch with my dreams for as long as I can remember. I give a huge thank you to Crossroads Credit Union for supporting my past, my present, and my future."