Crossroads Community Investment Fund
Building a strong foundation for our communities to build upon.
What is the Crossroads Community Investment Fund?
The Crossroads Community Investment Fund (CIF) was established in 2009 and each year funds are allocated to non-profit organizations that support community development. The purpose of the Community Investment Fund is to provide a strong foundation to build upon and enhance the quality of life for the people in Crossroads Country
Each year a set amount of funding is allocated towards the fund. Once the CIF opens for applications in June, non-profit organizations can apply for funding up until the closing date of August 31st. Once the closing date passes, the CIF committee reviews the applications and chooses which projects will receive funding.  Recipients of the funding are announced in October on Credit Union Day each year.
In the past 12 years the fund has allocated over $420,000 to more than 120 community projects and initiatives!
We are proud of our cooperative roots and helping our communities will always be a priority.
It's about grassroots, hometowns and cooperation. That's the Credit Union Difference.
Congratulations to the 2021 CIF recipients!
Canora Fire Brigade Inc. (New Side by Side), $15,000

Canora Composite School (Student Wellness & Sustainability Initiative), $5,000

Canora Leisure Services (New Aquatic Park), $5,000

Canora Junior Elementary School (Learning Device Purchase), $3,000

Preeceville Economic Development (Downtown Park), $3,000

Preeceville School (Technology Update), $3,000

Stenen Dew Drop In Club (Total Roof Repair), $3,000
Major funding projects determined through membership voting
2018 Preeceville School Library
$10,000 
towards a 21st Century Learning Centre.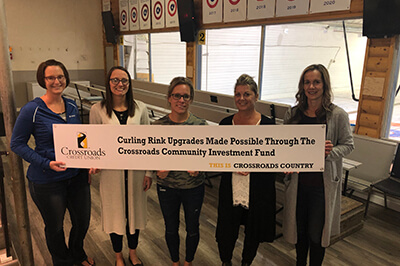 2019 Sturgis Curling Club
$15,000 
towards upgrades to the Sturgis Curling Rink.
2020 Lady Lake Park
$15,000

 
towards hall improvements at Lady Lake.
2021 Canora Fire Brigade Inc.
$15,000

 
towards a new side by side for the fire department.