Crossroads Community Investment Fund   

Building a strong foundation for our communities to build upon. 
What is the Crossroads Community Investment Fund?
The Crossroads Community Investment Fund (CIF) was established in 2009. Each year funds are allocated to non-profit organizations that support community development. The purpose of the Community Investment Fund is to provide a strong foundation to build upon and enhance the quality of life for the people in Crossroads Country
Each year a set amount of funding is allocated towards the fund at which time the CIF committee meets and discusses how the funds will be allocated for the year.  The program opens for applications in June and closes August 31 of each year.
In the past 13 years the fund has allocated over $470,000 to more than 130 community projects and initiatives!
We are proud of our cooperative roots and helping our communities will always be a priority.
It's about grassroots, hometowns and cooperation. That's the Credit Union Difference.
What are the eligibly requirements?
The non-profit organization/community group supports the development of our communities and/or development and implementation of programs that support the people in Crossroads Country.
The non-profit organization/community group must support one of the following areas:
Youth

Education

Community, Economic, Co-operative or Environmental Development

Health & Support Services

Arts & Culture
While membership at Crossroads Credit Union is not a requirement, non-profit organizations & community groups who do business with Crossroads Credit Union will be given preference when the final decision must be made between comparable groups.
Funding will not be provided for:
• Political or religious organizations
• Advocacy organizations whose causes are publicly controversial
• Individuals
• Conferences
• Privately owned ventures and/or private clubs funded through membership fees
Do you have a question?! 
You can contact the Marketing Department at Crossroads CU at 306-563-2424 or email marketing@crossroadscu.ca.

We asked our members to nominate a Non-Profit Organization or Community Group they believe makes a difference in Crossroads Country for a chance to receive $2,022 in funding.  $44,484 was allocated to 22 Non-Profit Organizations & Community Groups for 2022 and here they are:
Canora Community Childcare Centre
Preeceville Economic Development Committee
Canora Trakkers Snow Club
Wadena Community Childcare Centre
Sturgis Community Bingo
Preeceville School
Wadena Vohon Ukrainian Dance Club
Preeceville Nursery School
Wadena Seniors Club
Canora Veselka Dance Club
Canora Arts Council
Sturgis 123 Care for Me
Canora Composite School
Firmly Rooted Home School
Town of Canora Tourism Committee
Preeceville & Community Skate & Bike Park
Margo Community Rec Board
Sturgis Barveenok Ukrainian Dance Club
Assiniboine River Archery Club
Buchanan Black Box Players
Sturgis Figure Skating Club
Rama Recreation Board

Canora Fire Brigade Inc. (New Side by Side), $15,000

Canora Composite School (Student Wellness & Sustainability Initiative), $5,000

Canora Leisure Services (New Aquatic Park), $5,000

Canora Junior Elementary School (Learning Device Purchase), $3,000

Preeceville Economic Development (Downtown Park), $3,000

Preeceville School (Technology Update), $3,000

Stenen Dew Drop In Club (Total Roof Repair), $3,000
Major funding projects determined through membership voting
2018 Preeceville School Library
$10,000 
towards a 21st Century Learning Centre.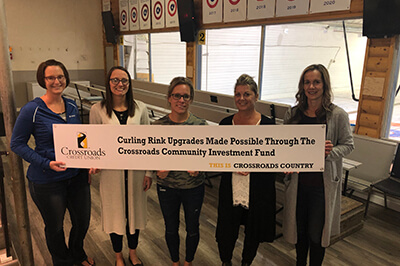 2019 Sturgis Curling Club
$15,000 
towards upgrades to the Sturgis Curling Rink.
2020 Lady Lake Park
$15,000

 
towards hall improvements at Lady Lake.
2021 Canora Fire Brigade Inc.
$15,000

 
towards a new side by side for the fire department.